Professor of Chemistry and Biochemistry Dr. Mahesh Lakshman is a 2021 Fulbright Scholar Awardee who focuses on nucleoside chemistry.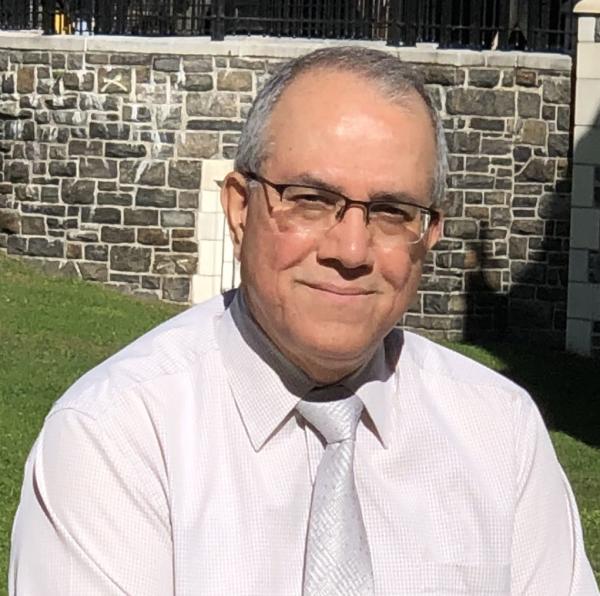 Dr. Lakshman earned both a bachelor's degree and a Master's degree in Chemistry from the University of Bombay (now Mumbai), and a Ph.D. from the University of Oklahoma. There he took the time to revisit Organic Chemistry, gaining a newfound mechanistic understanding of the basics and an appreciation for mechanisms and synthetic chemistry in the process.
"That reevaluation of how to understand probably influenced how I teach now. I tell students it's important to understand fundamentals. Without this, it is like building without a foundation."
After completing his doctorate, he undertook postdoctoral work at the National Institutes of Health, where he developed a total synthesis approach to modifying specific sites in short DNA fragments, with metabolites of environmental pollutants. This led to structure-biology studies with these synthetic DNA fragments. He then began working in industry, but his enjoyment of teaching and research eventually drew him back to academia. He had a faculty appointment at the University of North Dakota for a short time before moving to City College in 2000 with an NIH grant. He has continuously worked at City College since then and has been funded by both the NSF and the NIH.
Over the years, Dr. Lakshman's research has transitioned through many distinct phases, and through the years his work has focused on nucleoside chemistry. Nucleosides are the fundamental building blocks of DNA and RNA. Because nucleosides are widely present in all living systems and viruses, modifications of these entities are likely to be highly valuable in a range of applications, for example, such as probes of cellular response and microenvironment in DNA and RNA, fluorescent molecules, extensions of the genetic code, and as potential therapeutic agents against viral diseases and cancer.
Dr. Lakshman received the Fulbright-Nehru-Academic and Professional Excellence Award in December of 2021. The Fulbright Scholars Program is a program run by the United States Government to promote international educational and cultural exchange. Fulbright scholar awardees typically teach and/or conduct research in an institution outside of their country for the duration of their scholarship. Dr. Lakshman received a Fulbright-Nehru Academic and Professional Excellence Award (Flex) in April 2021. However, the program was suspended for a time due to the COVID 19 pandemic, so he could not immediately pursue his scholarship award. Nevertheless, he was able to commence research in the summer of 2022.
At the Institute of Chemical Technology (Mumbai), along with his Fulbright host and students, he is exploring nucleoside
chemistry that could potentially identify new therapeutic leads to treat emerging viral diseases. The new compounds that will be generated will be tested against a number of viruses, not just variants of COVID-19.
In addition to the research endeavor, Prof. Lakshman is co-Guest Editing a Special Collection for a Wiley Journal (The Chemical Record). He is also offering lectures for graduate students at the institute, as he greatly enjoys working with and teaching students. Because Prof. Lakshman has applied for the Flex program, he will complete five months of the award in the summer of 2023.
"The fact that, over the years, I can work with students who want to learn makes what I have done as a professional really worth it"
Even though nucleoside chemistry is a field that has been studied since the 1950s, Professor Lakshman believes that there is still much more for the field to offer. Part of his optimism for the field's potential comes from how he conceptualizes nucleoside chemistry, as well as organic chemistry itself. Just as two musicians can compose different symphonies in the same key, so too can two scientists use distinct methods to approach the same problem. It is a field limited only by a chemist's imagination.
"The profession is not just a title or what you do, it's also important what you can do for others, through both research and teaching."
Roxanne Lee is an editorial assistant on the RICC who joined the newsletter in December 2021. She loves writing about all sorts of scientific fields but favors environmental science, biology, and ecology in particular.