For Nasim Farahmand,  a Ph.D. candidate in the field of material science and nanotechnology at CCNY college, her internship at a startup company Flextrapower in the Research and Development department is a chance to further develop and refine her skills. This position is affording her that real-world experience to add to her educational accomplishments and putting her skills to work.
Receiving her Bachelor of Science in Chemical Engineering from Iran University of Science and Technology in Tehran, she then came to the United States. Here she got her master's degree from Southern Illinois University and is continuing her studies at CCNY as a graduate student.
Being at a startup has given her access to multiple teams across the organization. As an important member of a small team Farahmand has e a lot of opportunities to take on more responsibilities. She works on her research and also interacts with other teams and groups such as marketing and health agencies. The groups work together and "share our findings and sometimes we collaborate and we try to help each other so that's also good," explained Farahmand. This would not be the case at an internship for a large corporation, where communication among teams is not as easy.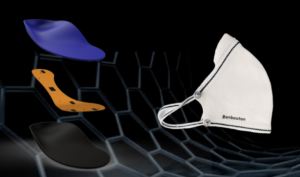 At startups, there are challenges of having a  small workforce with a drive to get a lot accomplished. With this, the ability to multitask is imperative, "It is really helpful if you have the ability to do a couple of projects at the same time, and sometimes the deadlines are so very close and you don't have much time," explains Farahmand. With short turnaround times, she needs to be quick to deliver and is up to the "challenges and working in a startup with a limited number of people and employees."
Flextrapower was founded by scientist and Linh Le who received numerous patents for his research on graphene and its ability to be printed onto fabric. Linh wanted to take this science and apply it to technologies for unique biomedical and sensing properties to better people's lives and promote well-being.
Outside of work, Farahmand likes to hike, take photographs, hang out with her friends and raise her beloved plants. "I always have like a specific corner of my apartment dedicated to plants. I like growing different plants and knowing about them and how to care for them," said Farahmand. 
She has gained a lot of experience working remotely alongside colleagues from various backgrounds and levels of expertise at Flextrapower.  "I have always been fascinated about exploring new materials and understanding their properties, so as an intern, I'm excited to learn more about the smart materials and their applications in the real world," stated Farahmand in a blog post.
She enjoys her role where not only does she do research, but she participates in blogs and writes reports on "graphing index toxicology and graphing application," said Farahmand. "I also have some collaboration with the intellectual property team that I do the research and I share with them and we help each other to have a nice patent application."